TEC conducted a study of different concepts to reduce the spread of invasive species throughout MN.  Working closely with the MN depaprtment of Natural Resources TEC prepared a report that evaluates methods for limiting and preventing the spread of AIS by addressing the unintentional transport problem on boats, trailers, dock, boatlifts, and other recreational equipment.  Below is a diagram for proposed inspection sites in the Gull Lake region near Brainerd, MN.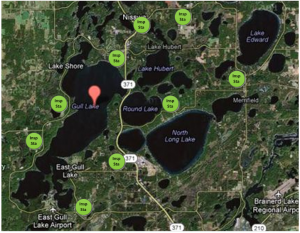 TEC researched, developed a model and wrote a report entitled, "Identify Options and Costs for Implementing Measures to Prevent the Spread of AIS" for the Minnesota Department of Natural Resources.  This report was finished January, 2012.  It can be down-loadeded here: http://www.dnr.state.mn.us/invasives/index_aquatic.html
From 2001 to 2009 TEC has monitored boat usage on Minnesota lakes for the Minnesota Department of Natural Resources.  In 2008 TEC surveyed boaters about PFD (personal floatation device) usage. We also collected water temperature, surface conditions, and weather information, automatically using volunteers and a website.