TEC conducted a study of different concepts to reduce the spread of invasive species throughout MN.  Working closely with the MN depaprtment of Natural Resources TEC prepared a report that evaluates methods for limiting and preventing the spread of AIS by addressing the unintentional transport problem on boats, trailers, dock, boatlifts, and other recreational equipment.  Below is a diagram for proposed inspection sites in the Gull Lake region near Brainerd, MN.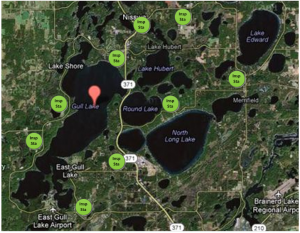 TEC researched, developed a model and wrote a report entitled, "Identify Options and Costs for Implementing Measures to Prevent the Spread of AIS" for the Minnesota Department of Natural Resources.  This report was finished January, 2012.  It can be down-loadeded here: http://www.dnr.state.mn.us/invasives/index_aquatic.html
In 2012 Thompson Engineering delivered a solar panel system to the Kontali Elementary School in Djibouti, Djibouti, Horn of Africa.  It was Thompson' first international job.  The system was a 12 kW system.  The following are some pictures from the job.